Crossed cables are used to connect PCs to one other PC or to connect a HUB to a HUB. Crossed cable are sometimes called Crossover, Patch or Jumper cables. If your connection is PC to HUB you MUST use a Straight cable.
The following description shows the wiring at both ends (male RJ45 connectors) of the crossed cable. Note: The diagrams below shows crossing of all 4 pairs and allows for the use of cat3/4 cables with 100m LANs (100base-T4). Pairs 4,5 and 7,8 do not NEED to be crossed in 100base-TX wiring. See notes below.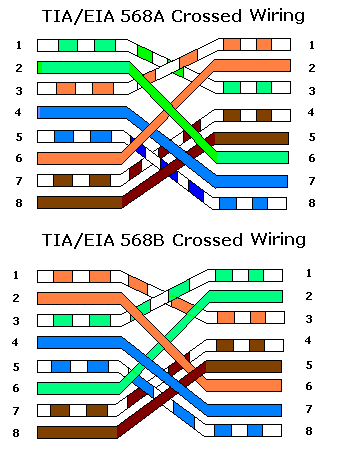 We use RED for crossed cables (or more commonly now a red heat-shrink collar at each end).
NOTES:
All our crossed wiring is now done to the 100base-T4 spec (uses all 4 pairs, 8 conductors) which you can use with 10base-T networks - but NOT necessarily the other way around.
Many commercial 100m LAN cables seem not to cross pairs 4,5 and 7,8. If there is no cat3/4 wiring in the network this perfectly acceptable.
Gigabit Ethernet uses all 4 pairs so requires the full 4 pair (8 conductor) cross configuration (shown above).
If you are using Power-over-Ethernet (802.3af) then Mode A or Alternative A uses pairs 1,2 and 3,6 for both signals and power. Mode B or alternative B uses 4,5 and 7,8 to carry power. In all cases the spec calls for polarity insensitive implementation (using a diode bridge) and therefore crossing or not crossing pairs 4,5 and 7,8 will have no effect.